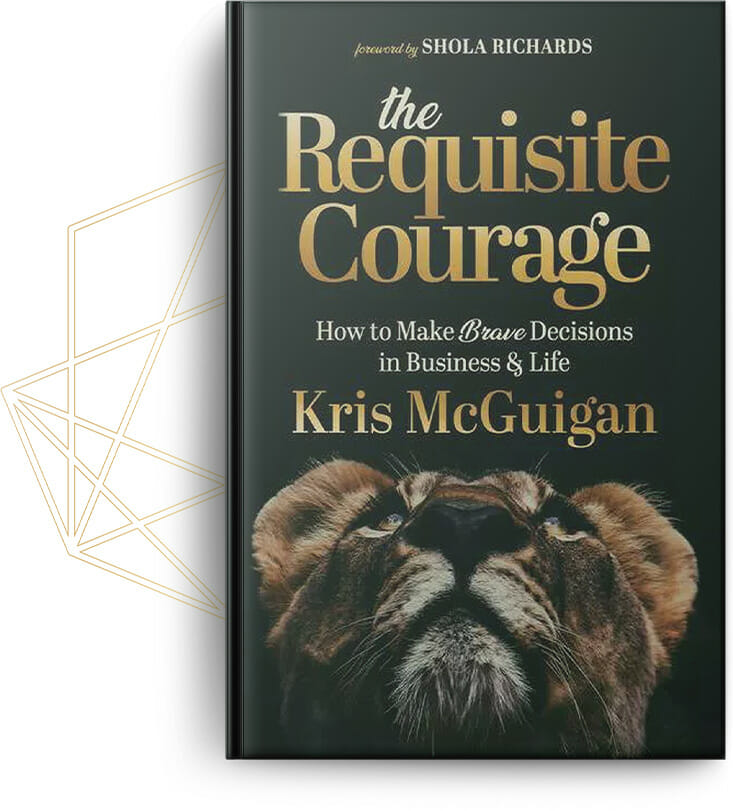 Life is full of disruption: whether suffering a loss, altering your environment, or gaining a new leader. The Requisite Courage offers the precise know-how for navigating change, taking control of your destiny, and creating long-lasting results.
If you want to align your corporate strengths to personal values or just need to stop clinging to the status quo, The Requisite Courage is the direct and fearless approach to problem-solving you've been missing.
Combining extensive research and engaging personal stories, Kris reveals the fear-abolishing strategies that helped her unlock her true potential and make powerful changes in her own life and the lives of her clients. The Requisite Courage is a fascinating and essential handbook for anyone wanting proven techniques for making the right, brave decisions for their career, life, and workplace.

READY TO START YOUR JOURNEY TO COURAGE?
Download the first two chapters of The Requisite Courage for free and receive monthly encouragement and insights for becoming who you were meant to be.


Kris McGuigan's brilliance, care, and selfless leadership shine through as The Requisite Courage shows readers that your greatest opportunities are on the other side of your greatest fears. Kris codifies her personal experiences and those of the renowned, along with science, into an interactive roadmap, transferring conceptual understanding into daily practices that will guide you to that other side."
JAMES ROSSEAU, SR.
Author of Success on Your Own Terms and CEO of The Corelink Solution

Kris McGuigan has shown her talent for holding readers' attention! This book offers insight, inspiration, and introspection. The chapters on fear are especially enlightening. Even highly successful people face uncertainty, imposter syndrome, and fear of the unknown—whether they admit it or not. It's how we recognize and overcome the fear that counts. Elevating your leadership in the face of fear is just one example of the value you will find in 'studying' (yes studying) this book. Take time with it. Sit with it. Reflect on it. You will find The Requisite Courage a personal and professional self-development tool that lasts a lifetime."
VALERIE SOKOLOSKY
President, Valerie and Company Leadership Firm & Host of award-winning vlog cast Doing it Right: The Stories that Make Us

Tackling change can be uncomfortable, stressful, and simply put, difficult. To inspire us to respond successfully to this challenge, Kris shares her own stories of personal and professional disruption and the lessons she learned for strengthening confidence and courage along the way. The Requisite Courage teaches us all to live with authenticity while building an internal and external support system that promotes resilience and recovery."
FRANCOISE ADAN, MD
Chief Whole Health and Well-Being Officer of University Hospitals Health System-Cleveland, Ohio

The Requisite Courage is a practical guide for those looking to lead with authenticity and audacity. Kris McGuigan presents clear, straightforward tactics for building confidence in the face of doubt. Based upon her own journey of self-discovery, she helps executives identify their values, find their purpose, and establish a success mindset."
ERNIE POUTTU
President & CEO of Harwick Standard


Kris McGuigan extends a thoughtful and compelling invitation to personal growth, provides the necessary tools to support transformation, and offers a direct challenge to step into our best selves in The Requisite Courage. Kris reminds us that what we most yearn for, both personally and professionally, often resides on the other side of fear. Bravo to The Requisite Courage and to all those who leverage the insights from these pages in service of their fullest potential."
RICK SIMMONS
Co-Founder & CEO, the telos institute and Co-Author of Unleashed: Harnessing the Power of Liminal Space

The Requisite Courage captures Kris McGuigan's heart and her smarts in a fast-paced, practical, and beautifully written handbook for career-minded professionals seeking to build resilience in the face of doubt. Her personal stories and practical solutions offer a framework for anyone looking to capitalize on change and disruption to embrace authenticity and write the next chapter of their life story."
ELISABETH SANDERS-PARK
America's 'Tough Career Transitions' Expert and Co-Author of No One is Unemployable

The Requisite Courage provides a compelling map for how to transform our lives and inspire others to do the same. Through moving personal stories combined with research-backed insights, Kris McGuigan provides easy-to-follow practices to discover your unique purpose, choose courage over fear and realize your deepest dreams."
ELLEN VAN OOSTEN, PHD
Co-Author of Helping People Change: Coaching with Compassion for Lifelong Learning and Growth, Director of the Coaching Research Lab and Faculty Director of Executive Education at Case Western Reserve University's Weatherhead School of Management

The Requisite Courage is about how to confront difficult changes in life and succeed while staying aligned with your authentic self. I highly recommend this book as it provides a roadmap for bravery when taking those big steps in life. This book provides a trove of scientific research with real-life experiences that support incredible personal and professional growth. Every reader will find relatable situations in this book!"
DAVID STRUKEL, PHD
Director of Burton D. Morgan Center for Integrated Entrepreneurship

The Requisite Courage is an invaluable resource, successfully coaching readers through making life changes. In fact, the author's guidance and wisdom gave me the courage to leave a nearly 30-year career and pursue my dreams. Combining a coaching perspective with loads of research and practical tips, The Requisite Courage shines a light on the dark places of uncertainty. Anyone searching for a new path will find Kris's insight and authenticity life changing. I most certainly did.
DANIELLE SERINO
Emmy Award-winning Journalist

I can hardly begin to tell you how impactful I found The Requisite Courage. I have experienced years of change and challenges in my life and have learned many lessons along the way. The need for courage being the most important lesson. In a complex, rapidly changing business environment, leaders struggle to find the right resource to empower and equip team members. Kris does an amazing job of coaching leaders and team members alike to embrace the change and welcome it; to actually choose it versus becoming a victim of it. I walked away after reading this book feeling even more empowered to control my destiny.
SUE ANN NASO
CEO of Staffing Solutions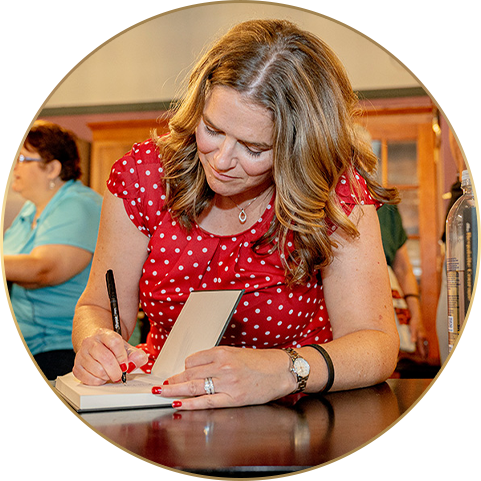 Kris is no stranger to courageous disruption. Early in her career, a supervisor coined the term "professional courage" to describe her direct and fearless approach to problem-solving. As a trailblazing entrepreneur, award-winning speaker, and author, Kris has consistently embraced new challenges with breathtaking audacity.
At the same time, she has fought to live authentically, combining her expertise with a fierce passion for igniting "ah-ha" moments of clarity and courage in others. In 2015, she left a successful corporate career to found Professional Courage, a premier career firm designed to help employees advance in their organizations.
But even as Kris helped thousands of individuals identify an intentional career path, she noticed many of them were still struggling to step forward. They knew their professional and even personal lives were stagnating, but they didn't know how to intentionally break free.
They either rushed into actions not aligned with their values or couldn't find the courage to take any action at all. They lacked the tools for making decisions with authenticity and audacity.
So she set out on a mission to help professionals move towards their goals with purpose and confidence.
As a keynote speaker, author, and coach, she helps executives, entrepreneurs, and professionals activate the courage they need to uncover their values and unleash their full potential.
Join Kris as she discusses The Requisite Courage with Shola Richards and Rita George.
READY TO START YOUR JOURNEY TO COURAGE?
Download the first two chapters of The Requisite Courage for free and receive monthly encouragement and insights for becoming who you were meant to be.